ABOUT US
Founded in 2005 by Alan Vickery, Rock on Ground's first commission was a Rio Tinto project located at Hope Downs.
The initial focus: providing specialised close to infrastructure blasting, with the blasthole drilling to be sub-contracted. The company grew quickly as the civil work increased with the major iron ore expansions by Rio Tinto, BHP, FMG and then Roy Hill. In 2010 ROG move into providing drill and blast services for mining contracts and secured its first gold mining contract with Saracen Gold Mines at Carosue Dam. Thanks to continued growth and expansion, the company today boasts a mixed fleet of top hammer, DTH hammer and RC grade control drill rigs, with 24 drill rigs in the fleet. The company also runs its own fleet of IEE Bulk Explosive trucks and provides dedicated on-site bulk explosive storage facilities.
OUR CHARTER
OUR VISION
To be the leading Control Blast Specialist.
OUR MISSION
We will maintain a sustainable business by providing our clients with a safe and cost effective blasting solution through our high quality standards and technical expertise.
COMMITMENT
We will provide a safe working environment for all;
We will all work towards minimising our impact on the environment;
COMMUNICATION
We will build and maintain open and honest relationships;
We believe the more we know about our role the better we can contribute;
CHANGE
We will be adaptable and flexible in an ever changing work environment;
We will embrace change and continual improvement;
CULTURE
We will all work together to achieve our goals;
We will all contribute towards an enjoyable and rewarding work environment;
CONSISTENCY
We will achieve the same high standards in everything we do;
We believe everyone is entitled to a fair-go in achieving these standards;
CONTROL
We will provide strong leadership and guidance to our teams; and
We will be accountable for our actions.
MANAGEMENT TEAM
ALAN VICKERY
MANAGING DIRECTOR
Founder of Rock on Ground and specializing in the drill and blast field, Alan has more than thirty years experience in the mining industry.
During the formative years of his career Alan was a respected Project Manager and Area Manager for Australia's largest drill and blast contractor: gold projects covered included Marvel Loch, Mt Pleasant and St Ives.
Alan moved on to provide blast consultancy to BHP Billiton and Rio Tinto in the Pilbara, prior to establishing Rock on Ground.
BEN DANIEL
OPERATIONS MANAGER
Ben joined Rock on Ground in 2007, working in the resources sector for over a decade. Experienced in mine and construction blasting, he has worked throughout Western Australia as well as internationally.
Ben specializes in close to infrastructure construction blasting, and has successfully managed numerous projects, implementing efficient and effective blast design.
His work has helped Rock on Ground establish itself as a respected controlled blasting specialist, ensuring all blasts conformed to stringent project flyrock, overpressure and vibration restrictions.
Ben has a Bachelor of Science from Curtin University.
Mark Fullford
Maintenance Manager
Mark is highly respected and regarded for his expertise in managing the maintenance of drill rigs and other ancillary mining equipment. He has strong people management skills and maintains a high standard of professional site-based maintenance teams. This ensures the equipment is maintained to an excellent standard, resulting in maximum rig availability. Mark's superior knowledge of the drill and equipment fleet is an impressive asset to ROG.
FIONA LEWIS
ADMINISTRATION MANAGER
Starting with Rock on Ground in 2009, Fiona manages the administrative and support functions from the Perth Office. Her responsibilities include Accounts, Payroll, and Human Resources.
Fiona and her team excel at creating a valuable support system for our operational teams.
CRAIG HOWELL
HSEQT Manager
Craig is an accomplished HSEQ & Training professional with broad experience in Drill & Blast, Mining, Oil & Gas, Aviation and Defence. He brings a comprehensive working knowledge of governing legislation and HSEQT practices in developing and managing Integrated Management Systems. Craig has a proven track record in achieving key performance and operational project goals through effective planning, implementation, delivery and management. Craig is an experienced investigator with training at the Team Leader level for TapRoot and ICAM incident investigation methodologies. Craig holds post-graduate qualifications in OHS & Environmental Management, is a Certified OHS Professional from the Australian Institute of Health & Safety and is a qualified Lead Auditor for Integrated Management Systems with Exemplar Global.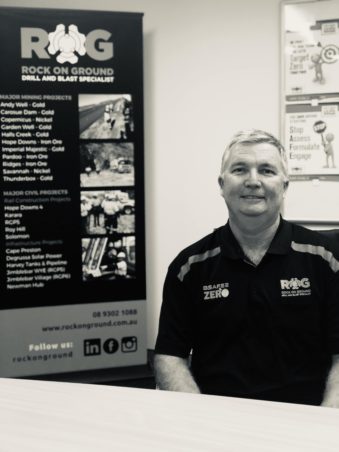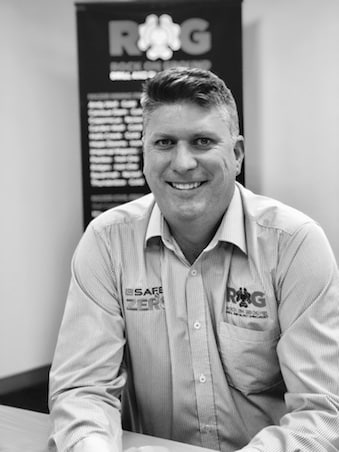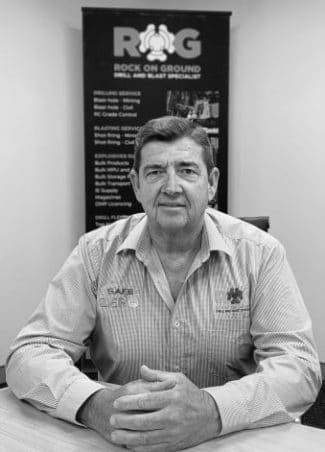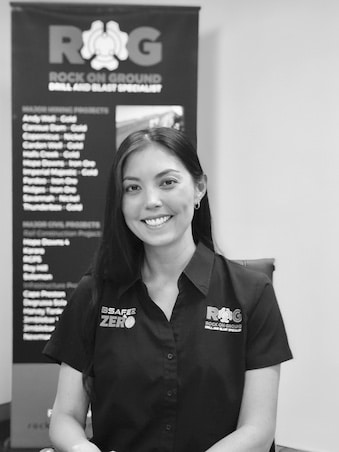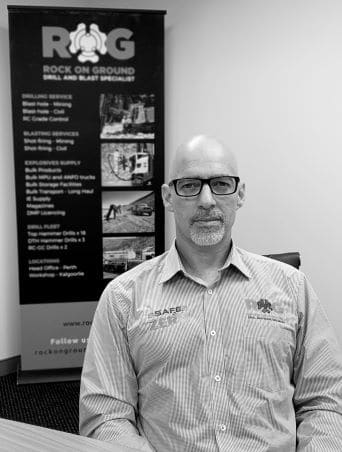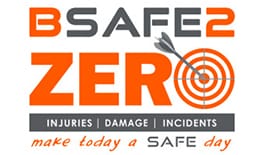 BSAFE2ZERO is our safety program developed to make employees aware of their safety at work, in camp and at home.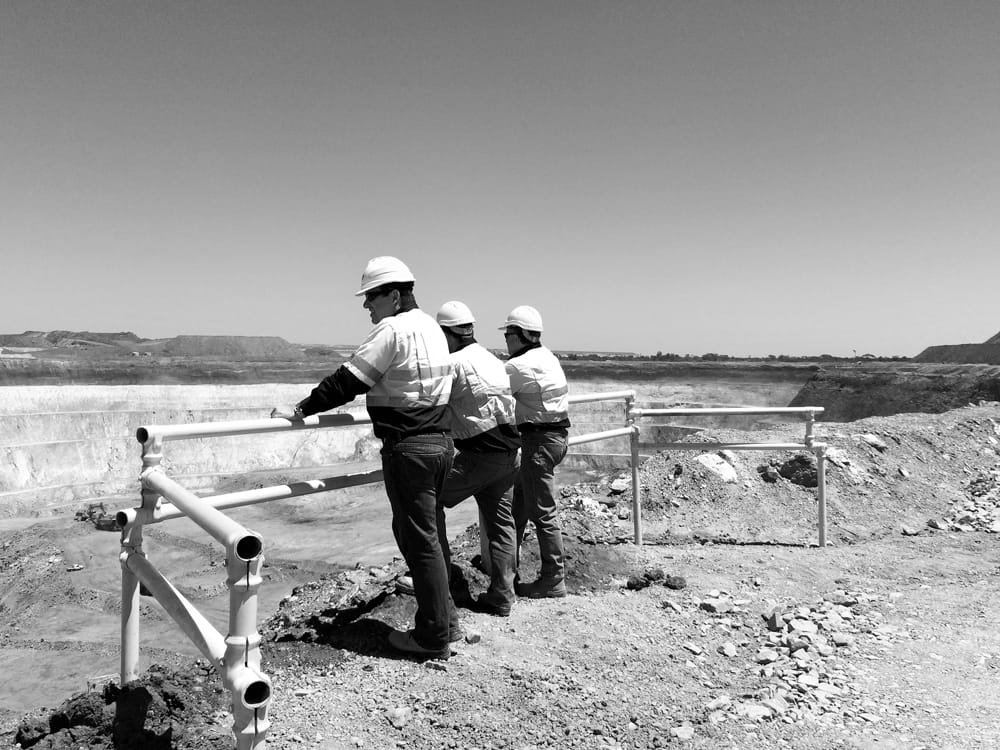 ZERO INJURIES | INCIDENTS | DAMAGE
We must all be committed to the vision of ZERO injuries, damage and incidents, and the belief that this can be achieved EVERY DAY.
MAKE TODAY A SAFE DAY
This program was developed to encourage everyone to be pro-active about safety in every aspect of life, thereby making safety a "state of mind".
The aim is to concentrate all efforts on being SAFE for today. If we do this, then every day can be a SAFE day, and we will achieve our target of zero injuries, damage and incidents.
TARGET ZERO
To achieve ZERO every day we will use the following three key elements that make up our BSAFE2ZERO System.
Our Responsibilities
These are the commitments we will all make to achieve ZERO every day.
Our Systems
These are the processes Rock on Ground provides to achieve ZERO every day.
BSAFE2ZERO
These are the steps to follow when completing a task so you can achieve ZERO every day.